Since my first listen a few years back, I've had trouble categorizing the Workhorse Kings into one specific rock genre; but trust me, it's far from a bad thing (And actually what Rocksposure is all about!). There's a reason why they were a part of our first group of artists to be Rocksposed on the site, their sound is simply different from just about everything else out there.

If you've had the pleasure of seeing them live or even just spent a few minutes on their Facebook page , you'd be hard pressed to find a more entertaining or animated cast of characters. I think that's why their newly released album Triple Crown interests me as much as it does; it showcases the serious side of the band getting down to business doing what they do best. All while still embodying the light hearted spirit that their fans have come to know so well.


Harmony is a staple of the Workhorse King's sound, both instrumentally and vocally. Dan Dougherty steps up to the mic along with backup vocal assistance from younger brother/drummer Kevin Dougherty and lead guitarist Kevin Broadwell. The trio employ some entertaining 'call and answer' on a few tracks and sing vocal harmonies for many of the choruses. Not to be left out of the harmonious mix is Anthony Bartkowiak as the presence of his bass is felt on every track thanks to a very heavy final bass mix. All four play off each other extremely well, it's a dynamic that clearly comes through in the studio and on the stage.

To sum up Triple Crown in one word: adventurous. From the Chili Pepper-esque "Tailor Made Serenade", to the second half of "Get Lost, Albatross" where the younger Dougherty pulls some beats that could almost pass for Grohl on a Queens of the Stone Age album; the WHK aren't afraid to push their sound in different directions and dabble in areas that you wouldn't expect. Solid uptempo rock songs like "Sipping and Thinking", "Marie Antoinette", and the rousing track "Bottle It Up" kick things off and get you ready for what seems like a routine rock album. Of course, that is before the WHK wander into the oldies with authentic 'shu-bops' on "Go Getter". Then jump into another realm altogether when the drums and guitars drive into "This Land is Cursed" as they break out the folk lore for a little haunted tale. (Broadwell shines on the song as he delivers some intricate and memorable riffs). Sound diverse enough to you? The impressive thing is that regardless of the tone or ambiance of the song, the Workhorse Kings come across confident and well within their element. As different as some of the flavors are, they all come together nicely on the album.

The can't miss track is the one you'll have to wait the longest for, "Hot Little Starter Pistol". This is by far the most raucous song on the record. Broadwell's guitar screams as drummer Dougherty stomps out an incredible beat to coincide with Bartkowiak's chunky bassline. Dan Dougherty's vocals fittingly get kicked up a few notches on the aggression scale to take on a more authoritative stance than they do on other parts of Triple Crown. "Hot Little Starter Pistol" is the last song you'll hear on the album and it's a strong, energy packed finish that will undoubtedly send you heading for the repeat button.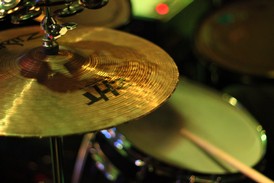 Their first full length album, Carousel, was a solid debut for Workhorse Kings; although, at times there was a bit too much going on between all of the layers of drums, guitars, keyboards, and vocals which almost created somewhat of a distracting, overfilled sound. This time around there is far more cohesiveness and balance to the album. It comes across as a considerably more refined piece of work. Perhaps that is due to a higher quality mix that made some tones more subtle than others (keyboard, I'm looking at you pal) or it could simply be the natural evolution of their song structures. Regardless of the reason, Triple Crown is a catchy record that's worthy of the hardware it boasts as its title.